DER Touristik establishes an expert committee for Groups & MICE.
DER Touristik Groups & MICE Network
The specialist committee with the name DER Touristik Groups & MICE Network consists of members from departments and companies working in the areas of Groups & MICE (Meetings, Incentives, Conferences, & Events) across Germany, Austria, and Switzerland within the DER Touristik Group.
The aim of such an expert committee is to further expand the market leadership in the Groups & MICE segment. It is about linking all stakeholders and exchanging know-how, learning from each other, benefiting from each other, and creating synergies.
All nine stakeholders are specialists for tailor-made groups, special programmes, theme travel, adventure, culture, & round trips. Furthermore, they create individually tailored group programmes with a focus on cuisine, nature, sustainability, hiking, adventure, active holidays, sports, training camps, and much more.
While some specialise in group experiences during leisure time, others work with long-standing corporate clients and organise conferences, board meetings, company events, annual meetings, large events, and creative incentive trips for company employees. A group may even start with only four people. Many of the groups have between 30, 50, and 100 participants. And there is no upper limit; larger meetings, conferences, and events can consist of 500, 5000, or even 15000 participants.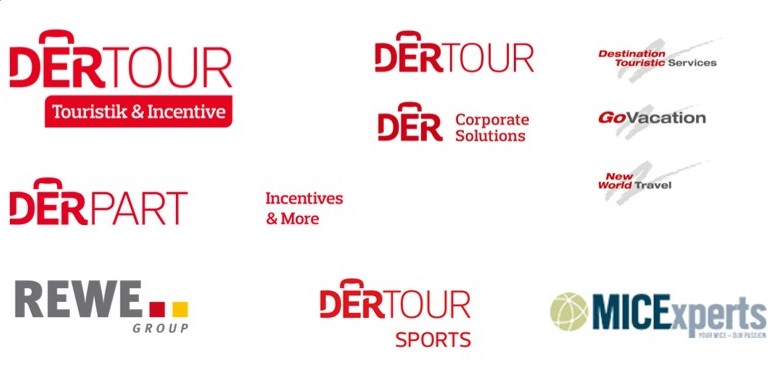 The nine Groups & MICE stakeholders are:
– DERTOUR Group Travel Worldwide: Group tour operator with an ample variety of group travel programmes worldwide full of exciting experiences. Office in Frankfurt, Germany.
– DERTOUR Groups À La Carte: Groups specialists for individual & tailor-made proposals for ad-hoc requests. Office in Frankfurt, Germany.
– DERTOUR Sports & Olypmics: Sports tour operator for major sports events, sports travel, training camps, as well as classical music & cultural experiences. Office in Frankfurt, Germany.
– DER Corporate Solutions: Tour operator for corporate clients for conferences, meetings, gala events, and much more. Office in Frankfurt, Germany.
– DERPART Incentives & More: Event specialist for meetings, incentive trips, conferences, tradeshows, product presentations, and much more. Office in Wolfsburg, Germany.
– DERTOUR Touristik & Incentive: Specialist for groups & incentive tours, meetings & trade shows with tailor-made offers. Offices in Cologne and Munich, Germany.
– MICExperts: Specialists for local, national, and international meetings, incentives, events, leisure groups, & special groups. Offices in Zurich, Bern, Lausanne, and Lugano, Switzerland.
– REWE Event- & Travelmanagement: The specialists for company in-house events in Germany and abroad and contact for company travel. Office in Cologne, Germany.
– Groups & MICE Global DMC network: specialised local Groups & MICE teams in the DER Touristik incoming agencies (DMCs) in 29 destinations. Offices worldwide in the destinations.