Destination Touristic Services Vision & Mission Statement
As part of DER Touristik Group, the Mission Statement of Destination Touristic Services is based on the shared vision, purpose, values, and principles.
Our vision
We are a leading international travel and tourism group with the best performing brands in each market. We benefit from the strong individual businesses in our network and collaboration across the group.
OUR MISSION
We make a difference by working together, to turn customer holiday dreams into reality.
OUR VALUES
Drive
Showing energy, passion, and determination. Approaching every task with enthusiasm.
Engage
Creating a great working environment in which everyone can feel they have a positive contribution to make.
Respect
Taking advantage of different perspectives and respecting differences among team members, customers and partners.
OUR PRINCIPLES
Results oriented
We make things happen by taking personal responsibility for our work, looking for the best solutions, making informed decisions, and doing things to the highest possible standard. We recognise that profitability is essential to our continued success.
Customer driven
We put the customer at the centre of everything we do; with a wide range of products and destinations, the most efficient processes and attention to detail, and an obsession with creating an effortless customer experience that leads to outstanding levels of customer satisfaction.
Bold and innovative
We are willing to change and take risks to improve the customer experience and achieve better financial results. We seek ways to transform how we operate and are happy to disrupt the status quo as a way to improve. We use mistakes as a chance to make things better.
Collaborative
We rely on innovative, enthusiastic, open collaboration within the group and with all our partners. This is our main success factor.
Responsible and aware
We only make promises we intend to keep. We uphold the highest standards of corporate behaviour, ensuring compliance at all times. We act ethically and sustainably to ensure we and our partners protect the interests of society and the environment.

History
Destination Touristic Services was founded in July 2013 as a new global DMC network to provide incoming services to tour operators (B2B). Destination Touristic Services has now developed into a broadly positioned and globally acting company and implemented a bed bank with a highly competitive product portfolio to its clients.
In order to monitor all offices in the destinations, an independent headquarters has been formed, based in Palma de Mallorca, DER Touristik Services S.L.U. It functions as a holding company for all Destination Touristic Services subsidiaries.
Having started its operations in November 2013 with destination offices in Egypt, UAE, Bulgaria and Tunisia, the company is constantly growing. Since opening incoming subsidiaries in Spain and Turkey in November 2014, Destination Touristic Services has become the market leader in Egypt and Tunisia for German holidaymakers.
Since January 2015, the company has offered its services in Greece, and since May 2016, also in Central Europe, with headquarters in Austria and local offices in Croatia. As of 2017, Destination Touristic Services provides services in the Dominican Republic, and in 2018, operations for Croatia were set up separately from Central Europe with an own subsidiary in Croatia. The last addition to destination touristic services' destination portfolio is Cyprus, which has come on board in 2020.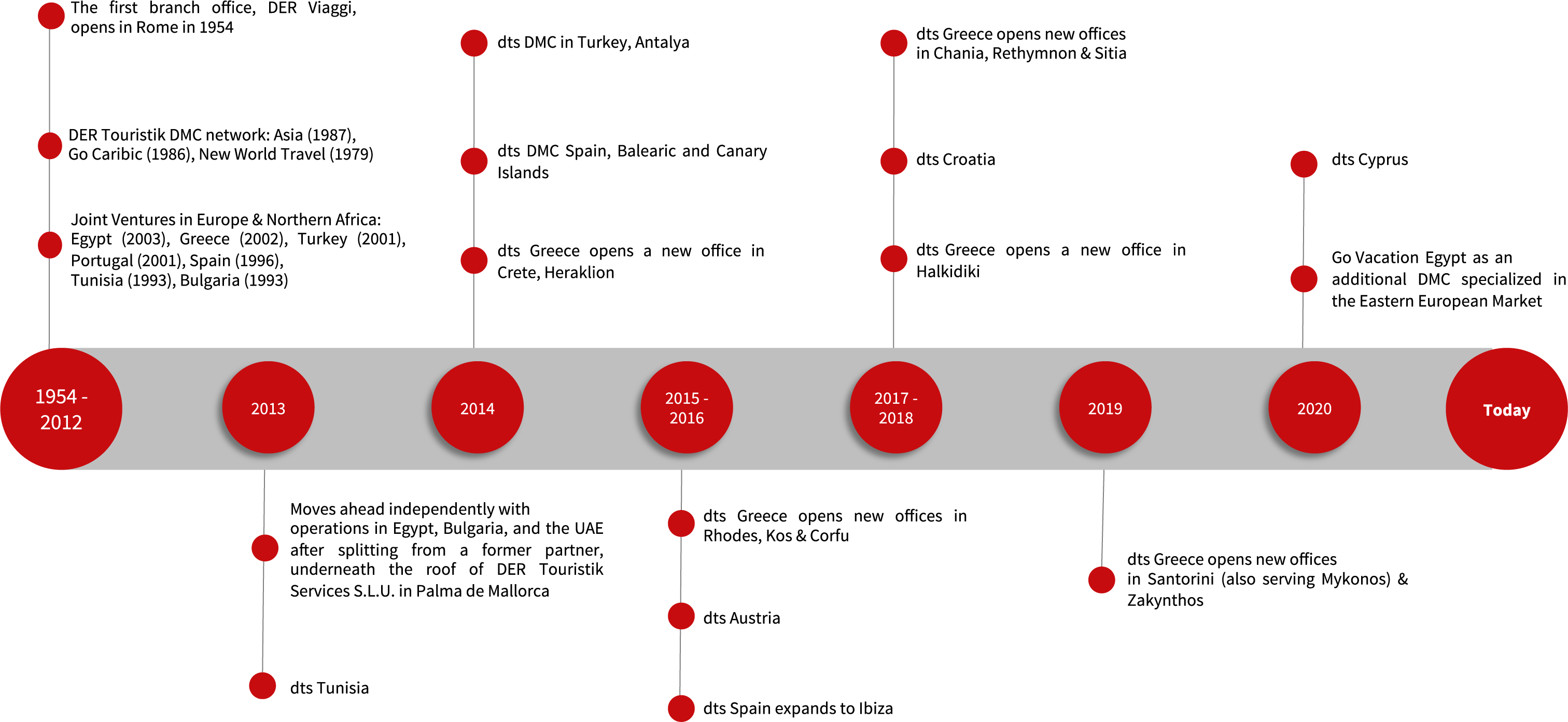 Our parent company DER Touristik
Destination Touristic Services is owned by DER Touristik, the second largest travel group in Germany with the buying power of the tour operators DERTOUR, ITS, MEIER'S WELTREISEN, clevertours, and TRAVELIX. Even though the company works closely with the above-mentioned tour operators, Destination Touristic Services is an independent incoming agency offering its services to various third-party tour operators. In addition, the company provides a constantly growing range of products to numerous clients from its expanding bed bank.
DMC Network
There for the holiday guests
In 29 travel countries, the employees of the Group's own destination management companies (DMC) look after the guests.
They welcome the guests to their holiday destination and are their first contact persons when it comes to questions about reservations, transfers or the organization of excursions. The DMC employees are also in close contact with hotels as well as local partners and do the hotel purchasing for the Group's tour operators.
The global network of destination management companies operates under the following brands:
Destination Touristic Services in EMEA, Go Vacation in Africa and Go Vacation Asia and New World Travel in the US.
Careers
As part of a big travel group, we aim to ensure a pleasant and safe journey. This applies both to our customers and our employees. In this respect, we offer attractive career opportunities under fair conditions. Additional investments in continuous further and advanced training provide our employees with the perspectives to a successful future.
Whether travel agent, accountant, or web designer – we offer interesting challenges and exciting development opportunities in all positions surrounding our favorite field: tourism. Join us and discover all the colorful and diverse aspects of the travel industry.
Your enthusiasm, commitment, and achievements will move forward thousands of travelers – and not least your career.
Find here current job offers at our global DMC network.
Check out our JOB PORTALS: